New Location in San Marcos Texas
Cramaro Tarpaulin Systems is excited to announce the opening of our 6th and newest location in San Marcos, TX (30 miles south of Austin, 50 miles north of San Antonio and 160 miles west of Houston). With the setting up of our Texas location it enables us to better serve and support our distributors and fleet customers with exceptional service and products for all your trucking an heavy hauling tarp needs. All of our locations across the US (FL, DE, OH, MA, NV, TX) sell, repair, and service most other manufacturer's tarping systems, so we can help you no matter what tarp system you have. We look forward to providing the best tarp sales and service in the Texas area for years to come. Come visit us in our new Texas location and let our friendly and highly experienced staff help you find the right tarp system for your truck, trailer, or fleet.
Cramaro Tarpaulin Systems
4768 Highway 123
San Marcos, TX 78666
Ph: 737-213-4333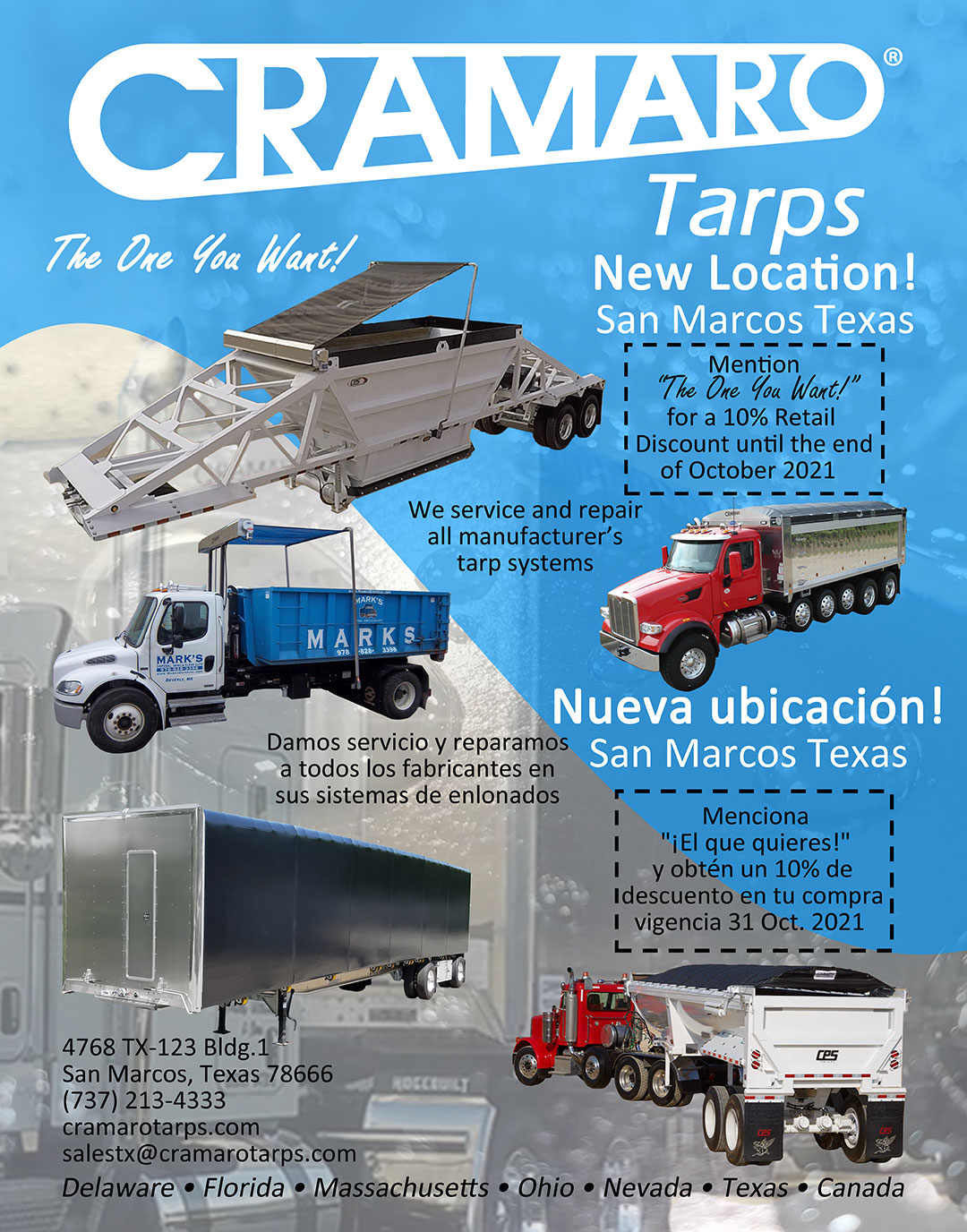 Dump Truck Tarps, Flatbed Tarps,
and Heavy Hauling Trailer Tarps by Cramaro Tarps
The tarp systems you want!
At Cramaro Tarps we offer the best dump truck tarps, flatbed tarps, truck and trailer tarps systems, and tarp accessories in the heavy hauling and trucking industry. We are the originators of the automated truck tarp system and continue to push the industry forward with innovative truck tarp systems to help truckers haul their loads safely and efficiently. We pride ourselves on your customer service and our ability to make a custom tarp system for any truck or trailer you have, or any type of load you are hauling. Our friendly sales staff can get you the tarp you need, when you need it. Our tarps are among the most durable tarps in the industry so that you have worry free usage for everyday heavy hauling use.
We also service any and all truck tarp systems at our 7 locations throughout North America, Delaware, Florida, Massachusetts, Nevada, Ohio, Texas and Ontario Canada. We can service your tarp and get you back on the road whether it be a Cramaro Tarp, or any of our competitors like Aero Industries tarps, Donovan tarps, Mountain tarps, Pioneer tarps, Pulltarps, Roll-Rite tarps, Carolina tarps, or any other truck tarp systems you have.
We have tarps available for every truck and trailer or load you are hauling. Our truck tarp systems include: