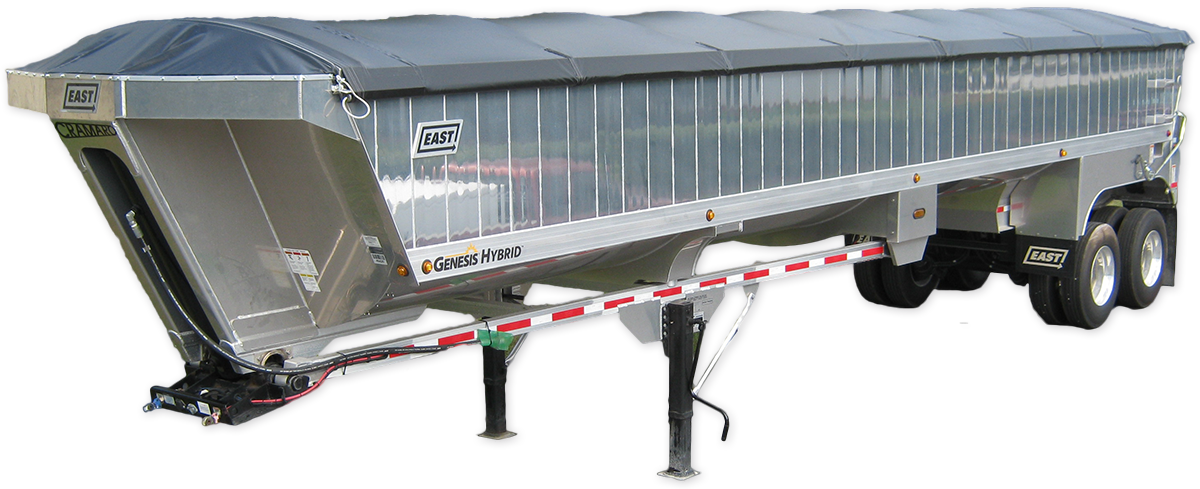 For an even easier tarp system try the Loc-Rite™ tarp system a unique roller that requires no ratchets, locks in place utilizing a deluxe crank handle.
Benefits
The Cramaro side roll (side to side system) is an excellent system when waterproof protection is needed.  The side roll is Ideal for agricultural and chemical loads.    One person operation from ground level.  Cramaro makes two different style side roll systems to meet different needs.  The Loc Rite system utilizes a locking rail for quick and easy securement.  The standard system utilizes ratchets and straps which takes a little longer to operate but offers the utmost in security.
Front and/or rear caps make operation even faster.  Cramaro's caps consist of aluminum bridges with vinyl bonnets.  There is an optional electric drive for even easier and faster operation.
Waterproof tarp system for dump trucks and trailers.
Ease of use. The traditional side roll tarping system is a side to side operated system controlled at ground level via an elongated handle.
Built to last. Heavy duty vinyl or mesh tarp. Heavy duty straps and ratchets to keep tarp taut and load waterproof. Steel extruded roll pipe available.
Covers or uncovers in seconds. Saving you time and money every time you uncover a load.
Service available through our 6 company branches or our network of dealers across the U.S. and Canada.