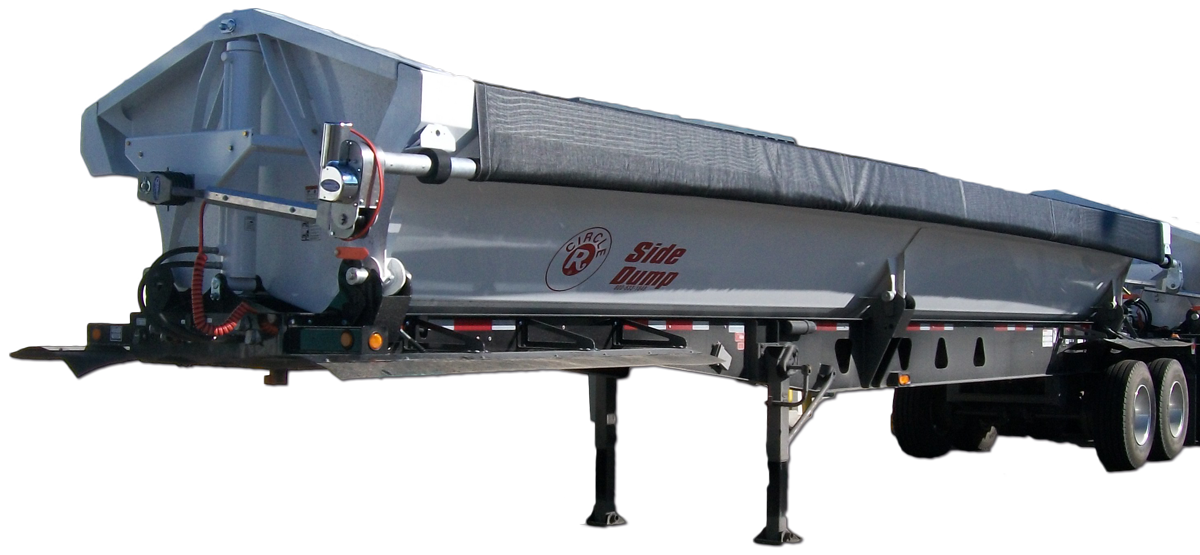 The Wrap N Roll tarp system is an aluminum electric side roll trailer tarp system designed specifically for side dump trailers.  The system stays completely out of the way which allows for unloading from either side of the trailer. The tarp easily clears heaped loads because of the straight arm design.  The heavy duty tear resistant Rhino mesh tarp is unrolled onto the load rather than dragged across it.  The Wrap N Roll trailer tarp utilizes a unique pivoting arm which reduces stress on the motor thus increasing its life expectancy.  The extra strong roll pipe virtually eliminates sag.  The flexibility of the system allows it to be retrofitted to all side dump trailers.
Benefits
System can be retrofitted to any side dump trailer
Extra strong roll pipe eliminates most sag
Allows trailer to dump from either side
Aluminum components
Less wear and tear on motor
Heavy duty American made motor
Rhino mesh tarp is seatbelt reinforced around perimeter and has lateral reinforcements to
prevent stretching
Vinyl tarp available
Electric side roll system for side dump trailers.

Suits your needs. Easily clears heaped loads due to straight arms design. Never in the way when dumping load from side to side.
Built to last. Diamond shaped aluminum arms strongest in the industry, roll pipe strongest available. Tarp is made from Cramaro Rhino mesh which does not drag over the load.
Ease of use. Never in the way when dumping load from either side.
Covers or uncovers in seconds. Saving you time and money every time you uncover a load.
Service available through our 6 company branches or our network of dealers across the U.S. and Canada.