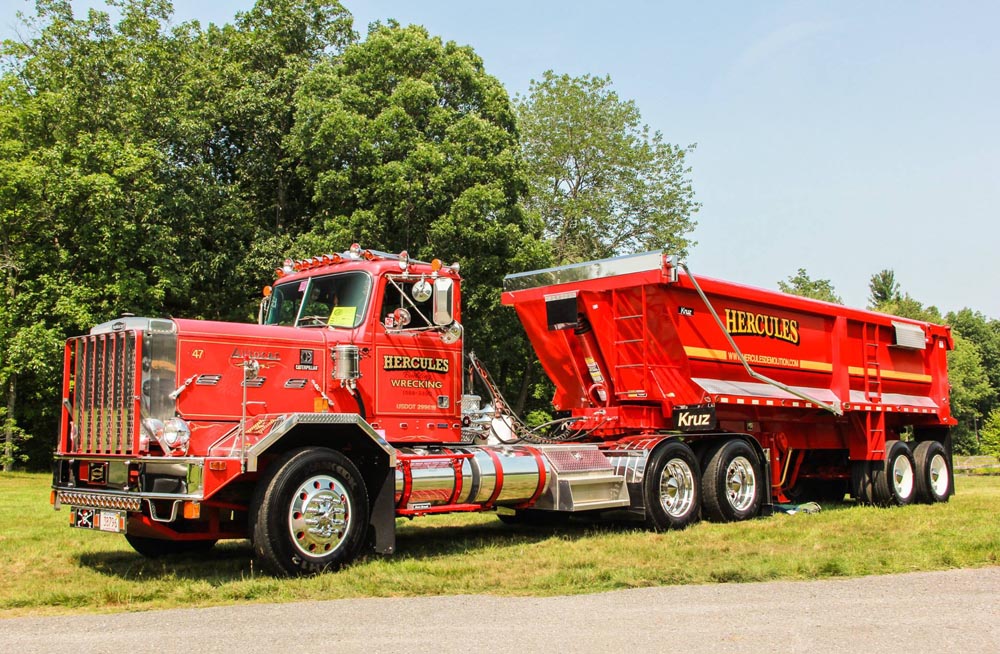 Hercules Building and Wrecking of East Taunton, Massachusetts. Hercules was started in 1964 by Harold (Duke) Monsini.  Duke started the company by doing the demolition work by hand and through his hard work and leadership the company grew and incorporated in 1974.    With the help of his son Hal Monsini and his daughter Cherie (Monsini) Kiley, the company has continued to grow, offering such services as total and interior demolition, renovation, dismantling, excavation, and trucking.  Their motto is that "no job is too small or too big" for them to handle.

The Monisinis take great pride in their equipment especially their trucks and trailers as you can see by this photo.  The Kruz trailer in the photo utilizes a Cramaro Flip N Go electrically operated flip arm style tarp system.  Not only does it add to the good looks of the trailer but it is made to hold up to the rugged punishment so common in the demolition business.  Duke counts on Cramaro for reliable products and knows that if he should need a part he can get it right away with a minimum of down time.

If you can ever use the services of Hercules Building Wreckers you can reach them at (508) 588-3390.